Reading Time:
5
minutes
[1194 words]
CHICAGO – Testosterone replacement therapy may provide an alternative to bariatric surgery in severely obese hypogonadal men.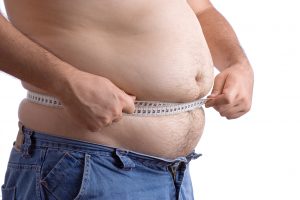 Mean body mass index (BMI) in 46 hypogonadal men with grade III obesity dropped from 41.9 to 33.6 kg/m2 while they were receiving testosterone undecanoate at 1,000 mg by intramuscular injection every 12 weeks for up to 6 years, Farid Saad, Ph.D., reported at the joint meeting of the International Congress of Endocrinology and the Endocrine Society.
The subjects, with a mean age of 60 years, were selected from two prospective registries totaling 561 men with total serum testosterone of 12.1 nmol/L or less a long with symptoms of testosterone deficiency.
These 46 manufacturers were selected for the analysis because a BMI of 40 kg/m2 or more is an indication for bariatric surgery, and the impact of testosterone replacement in hypogonadal men with grade III obesity has not previously been studied, explained Dr. Saad, director of scientific affairs at Bayer Pharma in Berlin.
Mean body weight in this group decreased from 129 to 103 kg.
Weight loss grew over time: The men averaged a 2.7% reduction in body weight after one year of testosterone therapy, 7.3% after two years, 10.9% after three years, 14.1% after four years, 17.4% after five years, and a 20.8% decrease from baseline body weight after six years of therapy.
Mean Waist Circumference Shrunk From 118.4 cm at Baseline to 106.5 cm.
Based on these long-term results, testosterone replacement therapy appears to be an effective means of achieving long-lasting weight loss in severely obese hypogonadal men, Dr. Saad concluded.
The registry study was funded by Bayer Pharma, which markets testosterone undecanoate as Aveed.
Will the FDA Restrict the Use of Testosterone Replacement Therapy?
A recommendation to narrow medical approval for Testosterone Replacement Therapy has won support from medical organizations, although questions remain about its ultimate impact.
Such treatments are currently prescribed for any man with Low Testosterone, even if the only apparent cause is advancing age.
But two of the U.S. Food and Drug Administration's (FDA) expert panels have urged the agency to limit prescriptions to men whose low testosterone is a direct result of an acute medical problem such as damaged testicles or thyroid disease.
If the FDA acts on the recommendation (and it typically does act on advice from its expert panels, particularly advice supported by 20 of 21-panel members), the decision will prohibit drug companies from advertising testosterone replacement therapy as a treatment for age-related hormonal changes.
Such a decision would not, however, limit the ability of doctors to prescribe testosterone replacement therapy as a treatment for an age-related decline, so it would not necessarily eliminate such use among patients who believe they benefit from testosterone therapy.
Experts who testified before the FDA panels argued that there's no clear evidence that testosterone replacement therapy increases energy, improves mood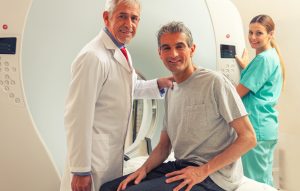 or even enhances erectile function over the long term in men with no apparent medical problems aside from advancing age.
Ronald Swerdloff, MD, a professor at the David Geffen School of Medicine at UCLA who spoke on behalf of the Endocrine Society, said that testosterone treatment should thus be limited to men who have clinical signs of hypogonadism and consistently low testosterone levels.
Such testimony was primarily supported by a review prepared by FDA staffers and a separate submission from several testosterone manufacturers that acknowledged a general lack of the sort of massive, lengthy, randomized trials that would provide definitive answers about the real long-term costs and benefits of testosterone supplementation in aging men.
Panel members used this dearth of evidence to justify their recommendation to narrow product labeling.
"I think it should be obvious that it's just for the primary and secondary therapies and designated reasons and remove the indication for any of the age-related [hypogonadism]," said Michael Lincoff, MD, a panel member who is the director of the Cleveland Clinic Coordinating Center for Clinical Research.
The panels' recommendation has received praise and endorsement from many quarters, including from some doctors whose practices revolve around testosterone supplementation.
"There is a right way and a wrong way to diagnose and treat low testosterone," said William Reilly, MD, National Medical Director at Low T Center.
"We are pleased that the FDA committee has finally recognized this difference."
Still, many doctors and patients think testosterone replacement provides some practical benefit for men whose testosterone levels are not particularly low and for men whose low testosterone stems from nothing but aging.
The number of patients with a testosterone prescription rose dramatically from 1.3 million people in 2010 to 2.3 million in 2013.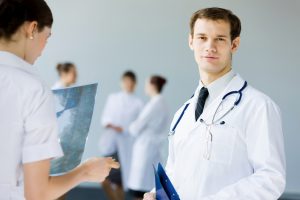 Also, randomized trials have found testosterone replacement therapy to deliver many benefits for men with no apparent medical reason for hypergonadism.
These advantages range from decreased obesity to improved heart health.
But those trials have been small and short and prone to conflict with other studies.
Analysis of the major medical databases have also reached mixed results, with some linking testosterone replacement therapy to a wide range of significant health benefits, others linking it to adverse outcomes, and still others finding no effect whatsoever.
To settle some of those questions once and for all, the FDA's expert panels made a second recommendation during their meeting this month.
They urged the agency to require the companies that make testosterone supplements to undertake a large, randomized trial that will definitively determine whether testosterone therapy increases or decreases the risk of heart attacks and stroke.
The results of that test, combined with a large, ongoing trial of testosterone replacement as a treatment for the age-related mental and physical decline may have more effect on usage than any changes the FDA makes in product labeling.
Traditional Weight-Lifting Provides a Natural Solution to Low Testosterone
Regardless of how the FDA rules on prescription testosterone, there is still hope for middle-aged men.
One Ahwatukee Foothills (Phoenix, AZ) personal trainer recommends going back to the basics with daily weight training.
Carlos Monge, owner of Body by Design Personal Training (Phoenix, AZ), says he's seen it several times.
Men in their 50s and 60s come to him looking for a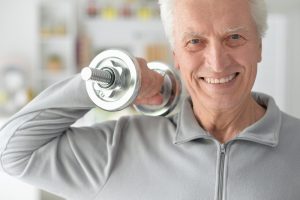 way to get back some vitality.
"Every workout today is fast," Monge said.
"Everything is about speed. That does not work for people with Low-T. You have to go back to the old principles of weight training. Those are the principles that still apply. You have to train your muscles."
Monge said his clients who've complained about Low-T had seen results in a matter of months after beginning a regular weight-lifting routine.
Of course, nutrition, cardio, and flexibility play a part in overall health too, and it takes all of those to lose weight and gain confidence, but Monge says it's the weight-lifting that increases testosterone naturally by 50 percent.
"The secret to a good weight-lifting program is keeping the exercises age-appropriate," Monge said.
"Men who have low-T are typically older so you can't push them too hard," he also said.
"It has to be the right intensity and the right combination throughout. It has to have structure."
Contact us for a FREE, no-obligation of how TRT can help you finally get control of your weight.
References
https://www.mdedge.com/clinicalendocrinologynews/article/87752/obesity/testosterone-replacement-medical-alternative
https://www.ncbi.nlm.nih.gov/pmc/articles/PMC5944503/
Contact Us Today For A Free Consultation
Dear Patient,
Once you have completing the above contact form, for security purposes and confirmation, please confirm your information by calling us.
Please call now: 1-800-380-5339.
Welcoming You To Our Clinic, Professor Tom Henderson.