Reading Time:
2
minutes
[410 words]
PITTSBURGH (KDKA) — For women with thinning bones, Growth Hormone Replacement Therapy is a different but possibly effective option for battling osteoporosis.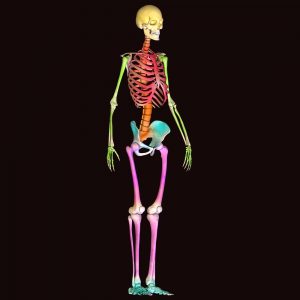 "The idea of growth hormone helping osteoporosis is not new," says Dr. Michael Farrell, an internist at Allegheny General Hospital.
A study from Sweden indicates that women on growth hormone replacement therapy had denser, thicker bones, and therefore had greater protection from fractures.
"This study looked at fracture risk, which is what you really care about," says Dr. Farrell. The study involved 80 women, ages 50 to 70.
For 18 months, they got daily shots of either a placebo, a single unit of growth hormone or a two and a half unit of growth hormone.
At that point, they were monitored for ten years. Then they were compared to a group of 120 women who did not take growth hormone.
Not only was bone density higher in women in the treated group, but if they were suffering from osteoporosis, they experienced half the fracture rate. The women with osteoporosis who did not take growth hormone had four times the fracture rate.
Growth hormone is made in the brain's pituitary gland. It regulates growth in children, as well as body fluids and muscle and bone growth. But growth hormone is not just for kids.
FDA-approved uses include growth deficiency and certain genetic conditions. Standard unapproved uses include athletes looking for an edge and aging people find a way to slow down aging.
But Growth hormone is not without risks
The risks of growth hormone include increasing the chance of stroke and breast cancer. But there is no bullet-proof treatment for osteoporosis.
Other medicines used to treat the condition, but they may have side effects as well, such as bone and heart problems. Young postmenopausal women with low cardiovascular risk might be the best candidates for growth hormone replacement therapy.
"People have to be willing to do an injection daily, too," Dr. Farrell points out. Even if it takes off as an alternative treatment, it's likely specialists will be the ones to prescribe it. "It's ghastly expensive.
The cost of growth hormone per month for people I know who have growth hormone therapy is on the order of thousands of dollars," he adds.
References
Study Looks At Link Between Growth Hormones and Osteoporosis
Study Looks At Link Between Growth Hormones and Osteoporosis
Growth Hormone Reduces Risk of Osteoporosis Fractures in Older Women
https://endocrinenews.endocrine.org/growth-hormone-reduces-risk-of-osteoporosis-fractures-in-older-women/
Growth Hormone and Insulin-Like Growth Factors as Anabolic Therapies for Osteoporosis
https://www.karger.com/Article/Pdf/183774
Contact Us Today For A Free Consultation
Dear Patient,
Once you have completing the above contact form, for security purposes and confirmation, please confirm your information by calling us.
Please call now: 1-800-380-5339.
Welcoming You To Our Clinic, Professor Tom Henderson.