Reading Time:
3
minutes
[726 words]
Mar 4, 2020
Lipocine Inc.'s (LPCN) TLANDO, an oral testosterone product candidate, has been reintroduced and submitted for FDA approval, with a decision date now set for August 28, 2020.
TLANDO is promoted as a testosterone replacement therapy in adult males for conditions linked to a deficiency of endogenous testosterone, also known as hypogonadism.
Based on the Post Action meeting and written feedback, the FDA indicated Lipocine's approach to addressing the single remaining deficiency through the reanalysis of existing data in accordance with FDA feedback appears to be a reasonable path forward. The FDA requested that the information generated by the reanalysis be submitted as part of a New Drug Application (NDA) resubmission with a six-month Prescription Drug User Fee Act ("PDUFA") clock.
"We are committed to working closely with the FDA towards the goal of achieving approval of TLANDO, our fixed-dose oral TRT," said Dr. Mahesh Patel, Chairman, President and Chief Executive Officer of Lipocine. "We plan to submit the TLANDO NDA in the first quarter of 2020."
The global Male Hypogonadism market, which was worth $3139.6 million in 2019, is steadily climbing and is estimated to reach $3448.5 million by 2025, according to a report by Market Study Report.
The FDA had refused to approve TLANDO three times before -- in June 2016, citing deficiencies related to the dosing algorithm for the proposed label, in May

2018, saying that the product could not be approved in its current form, and in November 2019, citing the failure of the efficacy trial to meet the three secondary endpoints for maximal testosterone concentrations ("Cmax").
During a Post Action meeting in February of this year, the FDA agreed that Lipocine's approach to addressing the concerns raised in the November 2019 Complete response Letter through the reanalysis of existing data is a healthy path forward.
Therefore, the Company resubmitted the NDA for TLANDO, including the information generated by the reanalysis, which has now been accepted for review.
Will TLANDO finally make it this time?
Meanwhile, the Company is embroiled in a patent infringement lawsuit with Clarus Therapeutics. The suit alleges that Clarus' Jatenzo, an oral testosterone capsule to treat men with certain forms of hypogonadism, infringes six of Lipocine's US patents. Jatenzo, which was launched in the U.S. last month, is the first new oral testosterone replacement product in over 60 years.
The patent trial is set to begin on August 24, 2020.
TLANDO is not the only drug in Lipocine's pipeline. LPCN 1144, an oral prodrug of bioidentical testosterone, is being developed as a treatment for pre-cirrhotic non-alcoholic steatohepatitis. This compound is under a phase II study in confirmed pre-cirrhotic non-alcoholic steatohepatitis ("NASH") subjects, dubbed LiFT.
Top-line primary endpoint liver fat reduction data are currently expected in mid-2020.
The Company, which ended September 30, 2019, with unrestricted cash, cash equivalents and marketable securities aggregating $11.5 million, raised gross proceeds of about $6.0 million in a public offering last November.
Forward-Looking Statements

This release contains "forward-looking statements" that are made pursuant to the safe harbor provisions of the Private Securities Litigation Reform Act of 1995 and include statements that are not historical facts regarding Lipocine's product candidates and related clinical trials, the timing of completion of clinical trials, the potential uses and benefits of our product candidates, our product development efforts, or plan to submit the TLANDO NDA in the first quarter of 2020, and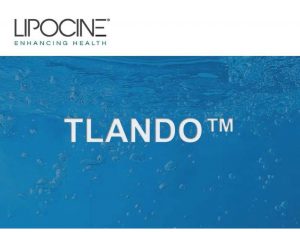 future discussions and potential future actions by the FDA related to TLANDO. Investors are cautioned that all such forward-looking statements involve risks and uncertainties, including, without limitation, the risks that the FDA will not approve any of our products, risks related to our products, expected product benefits not being realized, clinical and regulatory expectations and plans not being realized, new regulatory developments and requirements, risks related to the FDA approval process including the receipt of regulatory approvals, the results and timing of clinical trials, patient acceptance of Lipocine's products, the manufacturing and commercialization of Lipocine's products, risk related to on-going litigation and other risks detailed in Lipocine's filings with the SEC, including, without limitation, its Form 10-K and other reports on Forms 8-K and 10-Q, all of which can be obtained on the SEC website at http://www.sec.gov. Lipocine assumes no obligation to update or revise publicly any forward-looking statements contained in this release, except as required by law.
References:
https://www.nasdaq.com/articles/lipocine%3A-its-all-about-tlando-nash-patent-trial-2020-03-04
https://www.wfmz.com/news/pr_newswire/pr_newswire_health/lipocine-announces-regulatory-path-forward-for-tlando-tm-resubmission/article_7b86caf4-95f4-532a-8ed3-0e60a4ada34c.html
Contact Us Today For A Free Consultation
Dear Patient,
Once you have completing the above contact form, for security purposes and confirmation, please confirm your information by calling us.
Please call now: 1-800-380-5339.
Welcoming You To Our Clinic, Professor Tom Henderson.