Reading Time:
3
minutes
[722 words]
A recent report reveals that Human Growth Hormone may be beneficial in helping obese patients with weight loss.
Patients involved in the study lost an average of about 5 pounds.
Calculated dose aids weight loss in obese patients, study finds.
A controlled dose of Growth Hormone may help people who are obese lose weight and maintain the energy to exercise, new research at Saint Louis University shows.
How to Obtain Weight Loss with Human Growth Hormone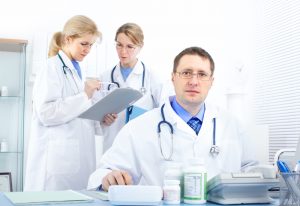 Stewart Albert, M.D., professor of internal medicine in the division of endocrinology at Saint Louis University School of Medicine, and Arshag Mooradian, M.D., chair of the division of endocrinology at Saint Louis University, presented their findings at ENDO 2003, the 85th Annual Meeting of The Endocrine Society. The meeting took place in Philadelphia from June 19-22.
The findings are significant because obesity is a significant health risk in the United States, affecting as much as 30 per cent of the population.
Obesity leads to liver, lung, and heart disease and an increased danger of developing diabetes mellitus.
'Treating obesity with growth hormone shows promise,' says Dr. Albert, the principal investigator. 'Future studies of growth hormone may suggest whether the drug could help in weight loss by itself or when used with another medication that has been approved for weight loss therapy for obesity.'
When people are obese, the amount of growth hormone in their bodies drops. Growth hormone may help control appetite and speed up the metabolism to burn calories. Without the right amount of growth hormone, the body accumulates fat and loses muscle mass, which may sap the energy to exercise.
Researchers at Saint Louis University calculated the amount of growth hormone that would have been in the body had the person not being obese and replaced it with nightly injections of growth hormone or a placebo for six months.
'People who took growth hormone lost an average of slightly more than five pounds. This weight loss was all due to the loss of body fat; they did not lose any muscle mass,' Dr. Albert says.
'Most of the fat / weight loss was in the abdominal area. There were also improvements in the good cholesterol HDL, which may have an extended benefit in protecting the people from heart disease,' Dr. Albert says.
Thirty-nine volunteers who were about 40 per cent overweight participated in the study. All participants met with a registered dietitian monthly and were encouraged to slowly lose weight by exercising and reducing their daily caloric intake by 500 calories.
The group that received the human growth hormone lost weight, but Dr. Albert isn't sure of the reason.
'We do not know why people lost weight - whether they had a decrease in appetite or they had an increase in energy because they kept up their muscle mass and were able to exercise,' he says.
This is a new approach for synthetic Growth Hormone, which is now approved for use in children with Growth Hormone deficiency to get them to grow. The dose given to adults in the study was much smaller and affected only their body composition.
'In the past when doctors used Growth Hormone as medicine to restore the body levels, the doses were too high,' Dr. Albert says. 'People had side effects and did not want to continue the therapy. In this study, growth hormone was given a more balanced dose, and people lost weight, which was entirely due to loss of fat.'
Established in 1836, Saint Louis University School of Medicine has the distinction of awarding the first M.D. degree west of the Mississippi River.
Saint Louis University School of Medicine is a pioneer in geriatric medicine, organ transplantation, chronic disease prevention, cardiovascular disease, neurosciences and vaccine research, among others.
The School of Medicine trains physicians and biomedical scientists, conducts medical research, and provides health services on a local, national and international level.
If Human Growth Hormone becomes a standard modality in the treatment of obesity, it will continue to be imperative that obese patients follow a regimen of exercise, and monitoring caloric intake if results are going to be efficient and durable.
Remember that burning or decreasing the intake of calories 500 per day will result in a weight loss of one pound per week.
Reference
Daily hormone shot helps take off pounds, research shows
Contact Us Today For A Free Consultation
Dear Patient,
Once you have completing the above contact form, for security purposes and confirmation, please confirm your information by calling us.
Please call now: 1-800-380-5339.
Welcoming You To Our Clinic, Professor Tom Henderson.