Reading Time:
3
minutes
[597 words]
A British study has concluded that just a handful of cognitive-behavioral therapy (CBT) conferences with a qualified psychologist may reduce the incidence and intensity of hot flashes that are due to menopause. CBT is a form of psychotherapy, or talk therapy, that focuses on your positive and negative attitudes towards a challenging situation in your life.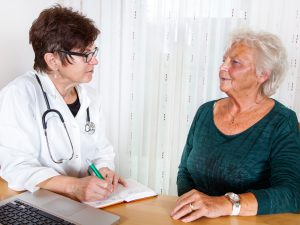 Researchers, whose work is published in Menopause, found that over two-thirds of the middle-aged women involved in their study had significantly reduced hot flashes and night sweats incidences after they had undergone six weeks of CBT. That is a significant amount of patients who benefited from the therapy.
Traditionally, hormone replacement therapy (HRT), such as estrogen and/or progesterone therapy, has been thought of as the best and quickest treatment for menopausal hot flashes and night sweats. However, the female reproductive system is incredibly complex and sensitive to hormonal changes and there are certain cautions and risks (blood clots or cancer) associated with hormone therapy, especially with middle-aged and older women who are beginning to lose the production of these hormones naturally. Therefore, women are looking for alternatives to hormones.
Several alternative approaches like black cohosh, soy, and flaxseed, have been tried but have not been proven as effective in clinical trials as anti-depressants for cooling hot flashes.
Myra Hunter, from King's College London, discussed her results and believes that CBT, when used as a group therapy or self-help therapy, could be a useful option for treatment for women who are transitioning into menopause and also throughout the post-menopausal season. It looks promising as a great therapy option to treat hot flashes and/or night sweats.
CBT is actually used for many other health issues, including insomnia, anxiety/depression and digestive issues. It can used in conjunction with other medications, of course, but its main goal is to reduce or change the negative and unhealthy cognitive patterns one who is suffering can have because these behavior patterns can feed into the physical and mental symptoms. It's all about having a positive attitude in life!
Hunter describes the therapy as suggesting new ways to approach the idea of having hot flashes, as well as the whole idea and outlook on menopause and why women go through it. Breathing exercises are also used in order to turn the woman's attention away from the hot flashes themselves and the negativity surrounding them.
In her study, Myra Hunter randomly assigned 140 women into three different groups: group therapy, self-help therapy and the no treatment group. These women had to have been experiencing hot flashes for at least ten times a week and for over a month.
For the group-based sessions, the groups met four times per month. For the self-help group, the individual women had one in-person meeting as well as a telephone call with a psychologist, and otherwise studied with a workbook on their own.
The study lasted a total of six weeks and 65% of the women in the group-based therapy showed a reduction in the severity of their hot flashes. For the self-help group, 73% found this to be true as well. The women who underwent no treatment at all only experienced a reduction of 21%.
Overall, the women have found better ways to handle the hot flashes on their own and have a more positive attitude towards them. It seems to be all due to the perception of the symptoms. The benefits of the therapy, both group-based and self-help, were still going strong even after six months.
References
Behavioral therapy may help hot flashes: study
https://www.reuters.com/article/us-menopause-therapy-idUSBRE82B01C20120312
Say Goodbye to Hot Flashes
https://mavendoctors.io/women/fitness/say-goodbye-to-hot-flashes-UtJnnSRDNUigLj8z8XO5qw/
Contact Us Today For A Free Consultation
Dear Patient,
Once you have completing the above contact form, for security purposes and confirmation, please confirm your information by calling us.
Please call now: 1-800-380-5339.
Welcoming You To Our Clinic, Professor Tom Henderson.